A gippy tummy is a sure way to ruin your holiday. To help cleanse your fresh water on your adventures we have launched the Alde AquaClear UV-C water disinfection system, using UVC light to disinfect and a water carbon filter to further eliminate any bad taste.
Interest in Motorhomes and Caravans has increased significantly in recent years. More and more people are choosing to spend their leisure time on the road to discover exciting new places in the world. Many go to new places and often there can be challenges with variation in the water quality. Covid-19 has also reduced access to communal facilities for showering and dishwashing.
Carrying water of less reliable quality, on board for longer, means your precious water can become foul smelling and tasting. Microbes and dirt in the water can ruin a holiday, especially if you're far from home.
The solution is water purification. Introducing Alde AquaClear UV-C final stage water disinfection. Efficient, non-chemical, extra low voltage water disinfection designed specifically for caravans and motorhomes. Alde AquaClear UV-C provides a layer of safety to the water supply, focused on removing harmful viruses and bacteria.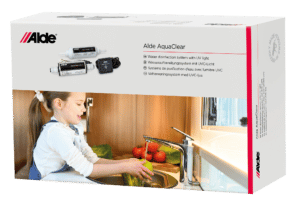 In order for more caravan and mobile home owners to have the opportunity to use Alde AquaClear UV-C, we are now also launching the product for the aftermarket. Alde AquaClear UV-C Aftermarket kit is compatible with all new and old heating systems from e.g. Truma and Alde.
Alde AquaClear UV-C consists of an efficient 12 V water disinfection system that purifies the water via ultraviolet light (UVC) [1] and a carbon filter that ensures that you get odor-free water without bad taste or color. The kit also includes a control panel as well as adapters and clamps for mounting.
[1] Neutralizes about 99% of microorganisms at water flows (up to 4 liters/min).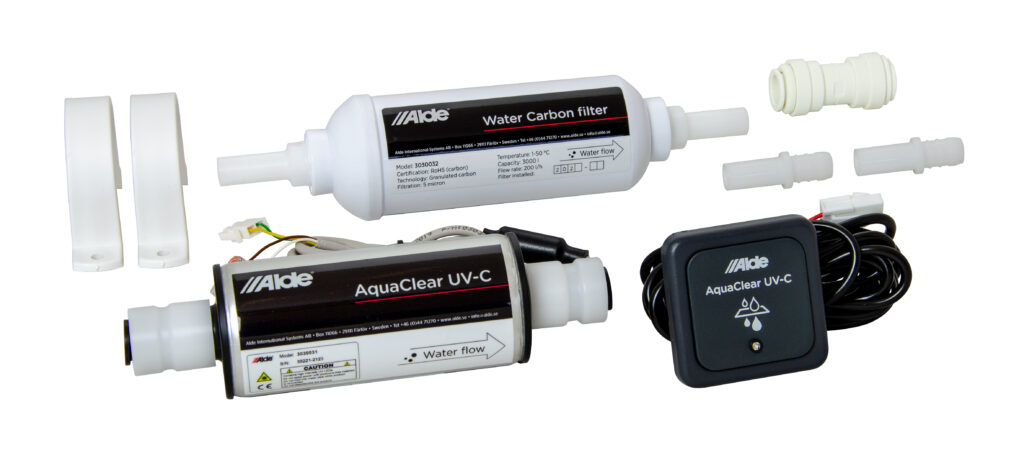 Product advantages Alde AquaClear UV-C:
UVC light reduces harmful microbes as legionella, viruses and protozoa.
Does not contain chemicals and mercury.
Carbon filters reduce bad taste and bad odors.
Low energy consumption – can be used off-grid.
Start of sales.
Alde AquaClear UV-C is available for purchase at Alde's dealership, see list of http://alde.se/service-och-support/.
For questions and more information, please contact:
Håkan Streimer, Sales manager Alde, +46 73 83 662 45, hakan.streimer@alde.se
Stefan Lindström, Marketing manager Alde, +46 70 83 555 04, stefan.lindstrom@alde.se