Two dear customers, Nigel and Kay, sends us a Christmas letter from their annual trip to York. It got all of us at Alde in to the proper holiday spirit. We hope you will feel it too.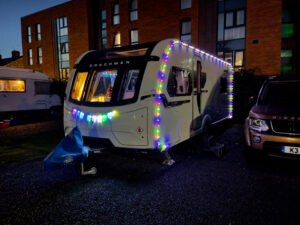 We love caravanning in all seasons of the year, but a favourite time of ours is in the weeks just before Christmas. During the colder months of the year, you can't beat being out during the daytime, and then returning to a lovely warm, cosy caravan – a real home away from home.
And what makes the time really special is that in the UK many people decorate their caravans with twinkling lights either inside or out, or both! I am guilty of doing both as I'm still a child at heart. Thankfully my wife Kay allows me that indulgence.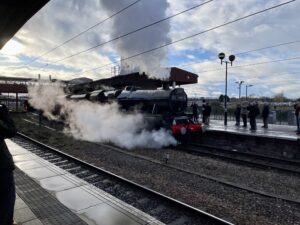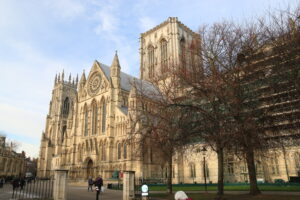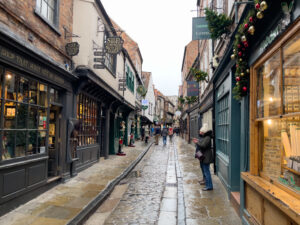 For the past few years we have been to a city centre caravan site in York, whose location allows you to walk into the city. There's always so much happening in the area in December, from special steam trains arriving at the railway station to the bustling shops on the quaint streets, music in the magnificent Minster, and the colourful log cabins forming the vast Christmas market with their associated lovely smells – roasting chestnuts, sweets and mulled wine to name but a few.
A little further afield the beautiful ruins of Fountains Abbey are illuminated with coloured lights, whilst Christmas music is played, adding to the magical atmosphere.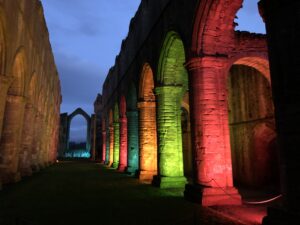 On more mundane days when Christmas shopping is done, there might be several walks back to the caravan to deposit parcels, before returning to the shops for more retail therapy. If the weather isn't so good, we might remain at the cosy caravan and write Christmas cards, accompanied by carols being played, and maybe the odd glass or two of mulled wine!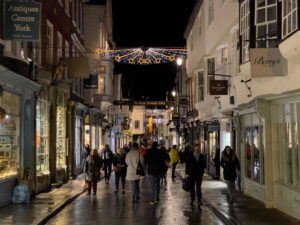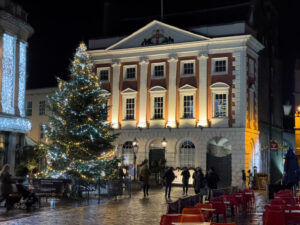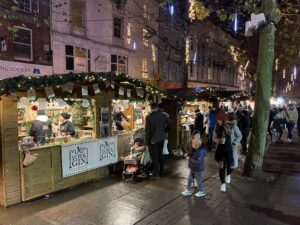 Then, as the daylight turns to darkness, it's time to return to the Alde heated caravan, the outside temperature sensor communicating with the boiler to ensure that the system heats in the smartest possible way, so it doesn't matter how cold it is outside, the inside will always remain at a pre-set constant. It's always such a welcoming feeling, opening the door and being met with a comfortable heat throughout the vehicle.
Once inside, the blinds are drawn, the Christmas lights are switched on and music is played through the sound system. Then, if the mood takes us, we watch a Christmas movie, usually accompanied by a glass or two of Christmas cheer.
Of course, none of this would be possible without the insulation of the modern caravan and the fantastic Alde heating system, so silent in operation and giving an even heat everywhere inside, with daytime and nighttime temperature settings to ensure 24/7 comfort.
May Kay and I wish you all a very Happy Christmas wherever you are, and a blessed 2022.
Nigel Hutson
4th December 2021.
---
Nigel Hutson, a lifelong caravanner from Chesterfield, Derbyshire in England. Purchased his first caravan in 1984 and has since then toured the UK and Continent on a regular basis, alongside his wife Kay. In addition to being a husband, he is also a father and grandfather.
Since retiring from the police in 2011 Nigel has become a regular contributor to various caravan and motorhome publications, as "someone who enthusiastically writes about their hobby rather than a journalist". Nigel is also a keen musician, enjoys travelling and has a great interest in all forms of transport… and he is a Manchester City fan.