What does it all mean? The sun, the pacman and the hour glass? Read all about it in this article about the 3020 HE Alde Control Panel and it's basic functions.
There are many smart functions embedded into the Alde Control Panel and many possibilities to upgrade or automatize functions in your Alde heating system. Below is a walkthrough of the most basic functions in the Alde Control Panel, the Standby Screen and the Main Menu.
Standby Screen
The time, internal and external temperature, and what is connected to the Alde Compact 3020 HE are shown here. You can also see if the circulation pump, the pump that circulates glycol fluid in the heating system, is running.
Embedded functions: Day Mode, Automatic start of the boiler, High Altitude Mode, Night Mode. Not shown in the image below is the Anti-bacteria icon

, but you will probably never see it. The Anti-bacteria runs for a short period at night, heating up the boiler to eliminate possible bacterias.
Accessories: The Alde Flow, Outdoor temperature, LPG bottle full/empty are not embedded functions but accessories that may or may not be installed in your vehicle. Consult your vehicle's user manual if you are not sure whether your vechicle is equipped with the current accessories or not. Read more about our accessories here.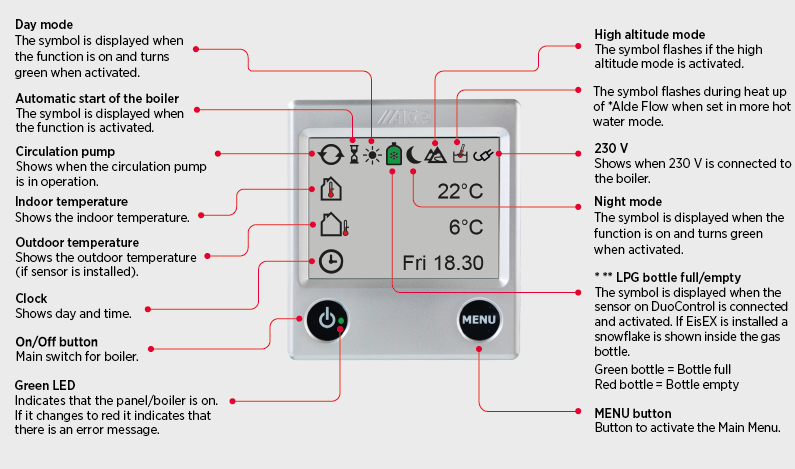 Main Menu
This is where all basic settings are defined for heating, such as the desired temperature, extra hot water and your choice of power; gas or electricity, or perhaps both.
By pressing the MENU-button you will go back to the Standby Screen. The cogwheel takes you to the Settings Menu, where you can set up the various embedded functions and, possible accessories.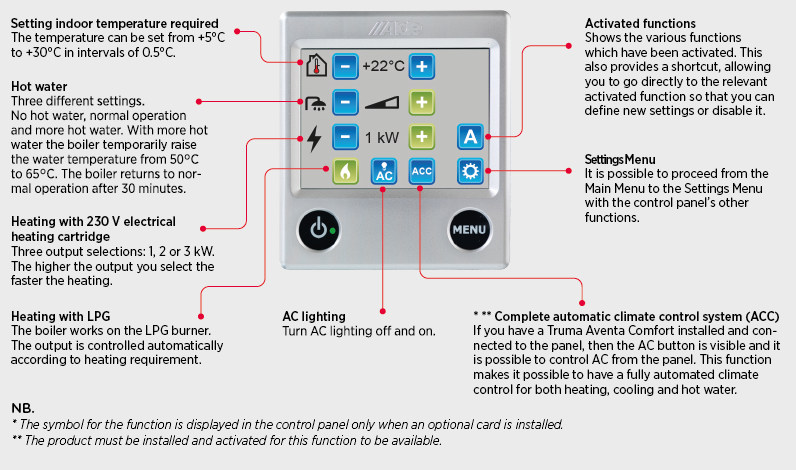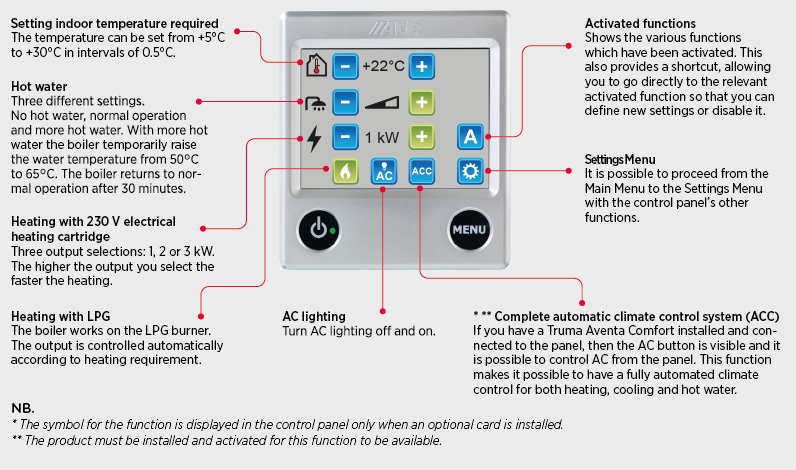 Happy camping! And remember, just get in touch if you have any questions.
Kind regards, the Alde Team